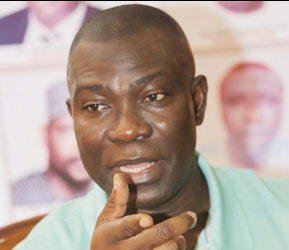 Senator Ike Ekeweremadu, Deputy President of the Senate, says the country's democracy is receding and it is not unlikely for the military to take over.
Ekeweremadu said this on Wednesday, while contributing to a debate on a motion sponsored by Ahmed Ogembe, senator representing Kogi Central.
Ogembe had alleged that Yahaya Bello, Governor of Kogi, sponsored thugs to disrupt an empowerment programme he organized for his constituents. The deputy senate president said such incident shows that efforts must be made to protect the country's democracy. He cited different instances where federal lawmakers have been harassed, warning that democracy must not be turned into a joke.
Ekeweremadu also told the governor of Kogi State that "the road he is traveling will not lead him anywhere. "You will recall that sometime last year when they wanted to recall Dino, I advised the governor that they are wasting the resources of that state, that it is mission impossible," Ekeweremadu said.
"They took three pages in the newspaper abusing me. Are we still hearing the recall today? Money has been wasted. "If he doesn't stop, there is no how he will come back in 2019, never, no he will not. God will show him that he is a God of justice and this is a message to all those people who have caused all kinds of problem in Nigeria at different levels.
The problem in Nigeria is that our democracy is receding. Who says army cannot take over? Let us not joke with our democracy that is the issue. "The house of a senator was destroyed in Kaduna State. We also are talking about Kwankwaso, who was stopped from going to his state where he ruled for eight years. "In Kaduna, Shehu Sani cannot organize a meeting and we are talking about a democracy."
Military coup is around the corner in Nigeria-- Ekweremadu cautions
Reviewed by
Unknown
on
Wednesday, March 07, 2018
Rating: