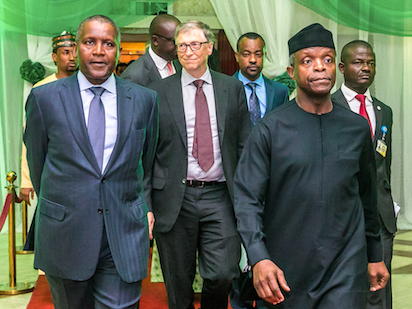 CHAIRMAN, Bill and Melinda Foundation, Bill Gates, yesterday in Abuja, faulted the Federal Government's Economic Recovery and Growth Plan, ERGP, saying though the government identified investing in the people as one of its three strategic objectives, its execution priorities did not reflect people's needs. He also said Nigeria is one of the most dangerous places in the world to give birth with the fourth worst maternal mortality rate in the world, ahead of only Sierra Leone, Central African Republic and Chad.
Gates, who stated this at expanded National Economic Council, NEC, presided over by Vice President, Prof. Yemi Osinbajo, said Nigeria's fiscal situation was at a low equilibrium, adding that in return for low levels of service, people pay low levels of tax. The philanthropist disclosed that his foundation's biggest office in Africa was Nigeria, where he had committed over $1.6 billion so far, with the intention of increasing his commitment in the country. He said Nigeria had unmatched economic potential but that what became of the potential depended on the choices its leaders make.
Gates said: "The most important choice you can make is to maximize your greatest resource, the Nigerian people. Nigeria will thrive when every Nigerian is able to thrive. "If you invest in their health, education and opportunities, the human capital, we are talking about today, then they will lay the foundation for sustained prosperity. If you don't, however, then it is very important to recognise that there will be a sharp limit on how much the country can grow. Nigeria one of most dangerous places to give birth "Nigeria is one of the most dangerous places in the world to give birth, with the fourth worst maternal mortality rate in the world ahead of only Sierra Leone, Central African Republic and Chad. One in three Nigerian children is chronically malnourished. "I urge you to apply this thinking to all your investments in your people. The Nigerian government's Economic Recovery and Growth Plan identifies 'investing in our people as one of three strategic objectives.' But the 'execution priorities' don't fully reflect people's needs, prioritizing physical capital over human capital.
"To anchor the economy over the long term, investments in infrastructure and competitiveness must go hand in hand with investments in people. People without roads, ports, and factories can't flourish. And roads, ports and factories without skilled workers to build and manage them can't sustain an economy. "Right now, Nigeria's fiscal situation is at what you might call a low equilibrium. In return for low levels of service, people pay low levels of tax. We hope to help you reach a higher equilibrium rooted in effective and transparent investments in people. This equilibrium would trigger a virtuous cycle." Buhari's administration determined to rewrite Nigerian story In his remarks at the expanded NEC attended by the business class, academia, traditional rulers and some world bodies, Vice President Osinbajo said high oil prices and economic growth of previous years had failed to translate into a better life for most Nigerians.
According to him, instead, grand corruption prevented investments in healthcare and education and infrastructure, and shamelessly robbed government policies of most, if not all of their intended impact. Osinbajo, however, assured that the Muhammadu Buhari's administration was determined to rewrite the Nigerian story for the better. We're investing in people through ERGP—Osinbajo "It is this realisation that has helped ensure that one of the primary planks of the ERGP is 'Investing in our people.' And it is for this reason that we are expanding the reach and quality of our healthcare through the National Health Insurance Scheme, NHIS; and working to guarantee basic education for all persons, while also upgrading and modernising the quality of secondary and post-secondary education. To compete globally, we must prioritise investments —Dangote In his remarks, Chairman of Dangote Group, Aliko Dangote, told those in government should lead in human capital development, stressing that when that was done, there would be committed Nigerians.
He said: "For Nigeria to truly compete globally, we must prioritize investments in the health, education and opportunity of our people, alongside other critical areas as infrastructure. Together, these are the inputs that will make Nigeria richer. "You, my friends in government, must lead. But when you do, you will have committed Nigerians like myself joining in the effort. "In Nigeria, we have largely achieved growth by extracting natural resources and are now building on that through our physical infrastructure. But we must also remember that it is our young people that will drive our future success."
Nothing wrong with ERGP—El-Rufai In an interview with State House correspondents, Governor Nasir el-Rufai of of Kaduna State insisted that it was not the question of adjusting the ERGP but the budgeting system with priorities set out clearly to address human capital development issues. He explained that what Bill Gates and Dangote told NEC members was that government at all levels also needed to do more. El-Rufai said yesterday's NEC meeting was the most important held since the government of President Muhammadu Buhari came to power.
Photo: Dangote, Bill Gates and Osinbajo
Bill Gates spends $1.6bn in Nigeria, says Nigeria most dangerous place to give birth
Reviewed by
Unknown
on
Friday, March 23, 2018
Rating: