President Goodluck Jonathan's PDP is winning in 23 states with 64 percent , Buhari's APC is winning in 14 states with 36 percent, says Fani Kayode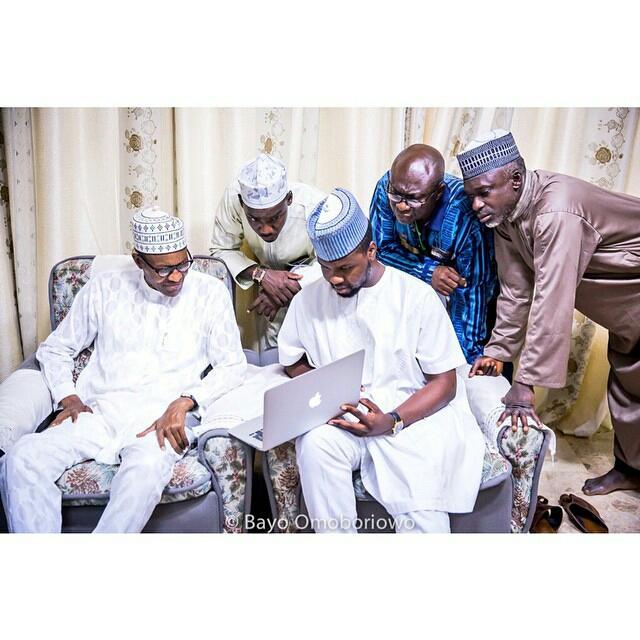 Text Of A Press Conference By The Director Of Media And Publicity, Pdp Presidential Campaign Organisation, Chief Femi Fani-Kayode, On Sunday, March 29, 2015
We are deeply concerned by the level of disinformation and falsehood that is being peddled around by the friends of the opposition in the media and particularly their paid agents and associates on the social media about the results of Saturdays elections.
Since yesterday afternoon they have been releasing fake results and they have been attempting to mislead the Nigerian people and our friends in the international community. The public have been inundated with lie after lie about the APC's so-called victories in virtually every single polling booth, ward, local government area and state in the country. This is not only nonsensical but it is also far-fetched, absurd and childish.
Two opposition media houses and their associates in the social media went as far as to shamelessly claim that President Goodluck Jonathan lost in my polling unit and in my ward in Ile-Ife, when in actual fact the President not only won in my polling booth and ward but he also won in virtually every other ward in the four local government areas of Ile Ife in Osun state where I come from.
The dirty lies that these two media houses have told is just one example of the gross and irresponsible mendacities and falsehood that the agents and associates of the APC habitually enjoy peddling. As we have always said, they are a party of liars that are led and inspired by a small cabalistic cult of shameful deceivers, liars and cheap propaganda merchants. In them there is no truth and lying is their second nature and natural habitat.
The APC, through their agents in the media, also indulged in many other fanciful and vain mendacities about many other PDP leaders. For example they claimed that Senator Musiliu Obanikoro who is presently the Honorable Minister of State for Foreign Affairs, Senator Iyiola Omisore, the leader of our party in Osun state, Governor Olusegun Mimiko, the Governor of Ondo state, Senator David Mark, the Senate President, and so many other of our highly esteemed and respected leaders also lost their polling units and wards to General Muhammadu Buhari and the APC candidates for the various elections.
Needless to say these claims by the APC are not only false but they are also absurd and nauseating. Such mendacities are indicative of the fact that they have lost touch with reality as we have always suspected. As a matter of fact we are surprised that they didn't claim that the President himself also lost in his polling unit and ward and that he in fact voted for Buhari rather than for himself. Such is their level of depravity and deceit that they will manufacture any lie and assert any falsehood just to gain an edge and feed their vain delusions.
The lies they have told about the so-called victory of Buhari in Ile Ife, Osun state is particularly distasteful because not only has Jonathan appeared to have won in Ile-Ife but our PDP candidate for the Federal House of Representatives in that constituency, Mr. Albert Adeogun, appears to have won the election hands down and defeated Mr. Rotimi Makinde of the APC, who is the sitting member of the Federal House of Representatives. Our candidate for the House of Representatives in Ilesa in the same senatorial district, Mr. Wole Oke, appears to have won his election as well which is another major blow for the APC in Osun state.
Instead of acknowledging these monumental and devastating losses of some of their leading members, the APC, in their habitual manner simply continue to bury their small heads in the ground like the proverbial ostrich, live in denial and peddle lies and falsehood. It is time that they were called to order. The lies of the APC must be ignored and treated with the contempt and disdain that they deserve.
The reports that we are getting from the field is that our candidate is doing very well in the south and north central and that we are making very strong inroads into various states in the core north. The motive for the lies and disinformation of the APC is to create high expectations for their supporters so that when the real results come out and they are announced by INEC, and when those real results do not tally with the fake results that the APC have told their agents and friends to release, they will begin to run riot, create havoc and kill people.
This is irresponsible and dangerous and we hereby warn the APC and their agents in the media to stop spreading falsehood and telling dangerous lies. We also call on the security agencies to be vigilant because when the truth of their defeat finally dawns on them the APC and Buhari will not take it very lightly. We should all patiently wait for INEC to release the official results of all the elections and until then we call on our supporters and party members to hold their heads up high, to remain confident and strong and to hold their peace.
Though it is undoubtedly a close race we at the PDPCO are cautiously confident and we are very optimistic of total victory despite the desperation, lies and disinformation of the APC. At the end of the day we have no doubt that President Goodluck Jonathan and the PDP shall prevail.
We are constrained to conclude this short briefing by commenting on two issues that are also a matter of grave concern to us. First of all it has been brought to our attention that hundreds of thousands of underage voters were allowed to vote by INEC officials in many parts of the north during saturdays elections.
The pictures of these underage voters, who are APC supporters and many of whom are not even Nigerians but were drafted across our northern borders just to vote, are all over the internet. These pictures show the children actually giving their thumb prints and voting in the elections on saturday. This is unacceptable to us and it needs to be explained by INEC. We await further clarification from them about it and failing that we shall revisit the issue in a very forceful and precise manner at a later stage.
The other area that needs clarification and an explanation from INEC and which gives us deep concern is the situation that we have found ourselves in when it comes to the issue of card readers. We warned about this right from the outset and we expressed our reservations about their usage but we were ignored and even criticised by many at the time for doing so. With the shameful and abysmal performance of the card readers during saturdays polls we believe that we have been vindicated and that our earlier concerns have proved to be legitimate and valid. Sadly the damage that the failure of the card readers has caused to the fortunes of our supporters and party is immense.
Many of our supporters were disenfranchised and were unable to get accreditation or to vote as a consequence of the card reader situation and it is curious that most of the problems associated with card readers only took place in areas and states that are the traditional strogholds of President Jonathan and the PDP. Was this a mere coincidence or was it contrived? That is the million dollar question. We shall speak more about this and other matters after the final results have been announced by INEC. Until then we shall hold our peace.
We use this medium to call on our friends in the social media, the party faithful and all President Goodluck Joanthan Support Groups not to remain silent in the face of these shenanigans. They should speak out on what they know about the propaganda and falsehood of the opposition APC. They should not be intimidated at all by the opposition's desperate and reprehensible antics. They should set the record straight and not allow themselves to be robbed of a well-earned victory.
As we speak now, we are winning in 23 states and we have 64 percent while the APC is winning in 14 states and has 36 percent. These results are subject to confirmation by the Independent National Electoral Commission. However, we are certain of what we are saying because we have information from our agents in every polling unit nationwide. No one must test our will by attempting to change these results and the APC should desist from pushing this nation to the brink of fire, chaos and destruction with their dirty lies and propaganda.
Thank you.
President Goodluck Jonathan's PDP is winning in 23 states with 64 percent , Buhari's APC is winning in 14 states with 36 percent, says Fani Kayode
Reviewed by
Unknown
on
Sunday, March 29, 2015
Rating: